Not your postcode?
Setting the first half of your postcode shows you the full choice in your area.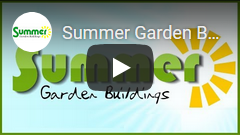 Platform Play Centre 332 - With Slide, Swing, Climbing Frame
Summary:
This premium quality platform play centre is 16'1"x13'7" (4.9x4.15m) and accommodates up to 16 children. It features a 4'x4' playhouse on an L-shaped platform. The platform is approximately 4'9" high (1.45m) with a ladder and strong safety rails. A 2.9m long slide, a swing and a climbing frame are also included. The playhouse design features window shutters and an attractive boarded roof. The platform features ex 3"x3" (70x70mm) posts with strong framing. The floor and vertical safety rails are substantial 3/4" (18mm) thick boards. Handle grips and a driving wheel are also included. Safe base options include bark and rubber chippings. Detailed instructions are supplied for DIY self assembly.
Prices fixed until Wednesday 29th May.
Back to the Top
These play centres conform to European health, environmental and safety regulations for domestic use including CE Safety Certification and compliance with EN71 and BS5665.
Maximum 16 children at the same time
Maximum weight 50kg per child
Immersion treatment in brown preservative included as standard
Smooth planed timber with rounded edges throughout for enhanced safety
Foolproof door and shutter safety closing ensures that little fingers cannot be trapped
L-shaped platform 4'9" high with substantial posts, framing, boards and safety rails - see detailed specifications below
Playhouse with tongued and grooved roof - see detailed specifications below
Climbing frame and swing - see detailed specification below
2.9m long slide in rigid self supporting injection moulded HDPE
Slide is easily converted into a water feature with a standard garden hose
Moulded handle grips with galvanized fixings and plastic covers
Moulded driving wheel, which rotates freely
Multi coloured moulded plastic climbing stones with galvanized steel fixings
Climbing stones include 2 fixings to avoid spinning
Plastic cover caps for main fixings
Base anchors included, pre-drilled galvanized steel corner pegs, supplied complete with fixings
Recommended clearance around the structure 6'7" (2000mm)
Overall width including climbing frame 16'1" (4900mm)
Overall depth including slide and ladder 13'7" (4150mm)
Overall height 10' (3050mm)
Overall weight 488kg
Engineered timber supplied as individual components, not prefabricated panels
All components are cut to size. No cutting is required during assembly.
All critical holes, for example in the framing, are pre-drilled in the factory for safety and convenience
Boards are not pre-drilled - boards can be fitted without drilling holes using a powered screwdriver.
Screwdriver bits and drill bits included
Platform
Maximum 9 children at the same time including 2 in the playhouse
Substantial ladder with tubular steel rungs powder coated in different colours
Decorative safety rails with substantial handrails
Ex 3"x3" vertical support posts (finished size 70mm x 70mm)
Ex 2.5"x1.5" floor joists (finished size 58mm x 32mm)
Ex 2.5"x1.5" hand rails (finished size 58mm x 32mm)
Ex 2.5"x1.5" horizontal framing (finished size 58mm x 32mm)
Ex 2.5"x1.5" ladder uprights (finished size 58mm x 32mm)
Ex 5"x1" horizontal braces and cover trims (finished size 120mm x 18mm)
Ex 5"x1" vertical safety rails (finished size 120mm x 18mm)
Ex 5"x1" floor boards (finished size 120mm x 18mm)
110 timber components (27 floor boards, 30 vertical safety rails, 53 framing members and trims)
517 fixings
Platform width excluding slide and ladder 8'2" (2500mm)
Platform depth 8'4" (2530mm)
Platform height 4'9" (1450mm)
Platform height including safety rails 6'9" (2050mm)
Uncovered platform area approximately 7'3" x 3'6" (2.2m x 1.1m) including safety rails
Playhouse
Maximum 2 children at the same time
Ex 4"x3/4" overlapped wall cladding (finished size 90mm x 16mm)
Ex 4"x3/4" tongued and grooved roof boards (finished size 90mm x 16mm)
Ex 4"x1.5" corner posts (finished size 90mm x 35mm)
Ex 2.5"x1.5" vertical framing (finished size 58mm x 32mm)
Ex 2.5"x1.5" horizontal framing (finished size 58mm x 32mm)
Ex 2.5"x1.5" roof purlins (finished size 58mm x 32mm)
Prefabricated plywood door 1'10"x3'5" (550mm x 1050mm)
Prefabricated plywood shutters
Window opening approximately 12"x12" (300mm x 300mm)
Prefabricated triangular gable panels
167 timber components (22 roof boards, 81 wall cladding boards, 51 framing members, 13 trims)
555 fixings
External width of walls 3'11" (1200mm)
External length of walls 3'11" (1200mm)
External width of roof 5'4" (1630mm)
External length of roof 4'6" (1370mm)
External ridge height excluding platform 5'7" (1700mm)
External eaves height excluding platform 4'1" (1250mm)
Internal ridge height excluding platform 5'3" (1600mm)
Internal eaves height excluding platform 3'11" (1200mm)
Climbing frame and swing
Maximum 7 children at the same time including 1 on the swing
Ex 6"x3" main beam (finished size 140mm x 70mm)
Ex 3"x3" main framing (finished size 70mm x 70mm)
Ex 2.5"x1.5" intermediate framing (finished size 58mm x 32mm)
Ex 5"x1" boards (finished size 120mm x 18mm)
Main beam connected to the main structure with a powder coated welded steel bracket
Climbing net with 9m rope and 2 part plastic crossover joints
Moulded trapeze swing with ropes and galvanized steel fittings
55 timber components
262 fixings
Platform area 3'11" 3'3" (1200x1000mm)
External width 8'6" (2600mm)
External depth 8'4" (2550mm)
External height 7'3" (2200mm)
ENGINEERED TIMBER - THE BENEFITS This premium play equipment is offered at a fraction of the cost of comparable fully installed systems. The high quality kit is a modern engineered timber product, which has more in common with a precision engineered metal kit than a conventional timber garden building. The manufacturing is more sophisticated and precise with better quality components. Precisely machined and pre-drilled where required, the individual components are neatly packed for efficient delivery with no large, cumbersome and fragile prefabricated panels.
The result is a superb building but it will take longer to assemble than a traditional garden building. A powered screwdriver is recommended. Detailed step by step instructions show where every component and every fixing is used. All components are precisely cut to size. All critical holes are pre-drilled in the factory for safety and convenience. For a DIY enthiusistic fitting is a simple and straightforward project with no significant challenges. If you take your time and follow the instructions carefully the finished structure will be universally admired.
SAFETY FIRST: This wooden play centre is as safe as practically possible and strong enough to withstand normal play. Screws and nails are recessed into the wood with no points or sharp edges protruding. The platform is strong enough to support the weight of several children. The ladder width and rung spacing ensures safe and comfortable use. The safety balustrade is strong enough to withstand children falling against it with gaps narrow enough to prevent a child falling through. The preservative used complies with BS5665/EN71 part 3. This play centre is for domestic use and suitable for children aged 3 to 10 years and weighing less than 50kg. It is not suitable for children under 3 years old due to possible health and safety hazards. Adult supervision is required at all times.
SIZES - LENGTH AND WIDTH: The sizes listed alongside the price are the overall external play centre dimensions including all features such as slides and ladders. The dimensions are measured as a rectangle across the widest points. A safe area should be allowed around the play centre, especially in front of ladders and slides and on both sides of swings and climbing frames.
Back to the Top