01603 721590
Page Generated:
14 Aug, 2020 05:37:44
Spar Pent Concrete Shed 628 - Ex Display, Collection Only
Summary:
This is a fantastic opportunity to buy an ex-display building from our showcentre in Norwich. This 8'0"x6'6" pent roof concrete shed features an attractive and durable pebbledash finish with colourful Canterbury Spar chippings. Standard features include a 2'6" wide white powder coated single hinged door and a white PVCu double glazed opening window. The roof sheets are brown plastisol coated galvanized steel with matching brown fascias. The all steel roof structure features welded steel trusses.
| Size | Ex Display Concrete Shed |
| --- | --- |
| 8' x 6'6" | £549 |
Specifications
EX DISPLAY BUILDING for sale at NORWICH!
WE ARE PROUD TO DISPLAY THIS BUILDING: You can see this building on display at our showcentre in Norwich. With thousands of buildings on our website and only a few dozen on display, we only display our very best value buildings. We chose to display this building because it is one of our favourite buildings. We know it will bear close scrutiny. The condition is as new, except for dust and any minor wear and tear from use as a display building. There are no significant defects and it has not deteriorated at all.
COME AND SEE FOR YOURSELF: If you are able to visit us you will see the quality for yourself. Our Show Centre is open 7 days a week with expert advisers always available. We are open from 9.00-5.30 on Monday to Saturday and 10.30-4.30 on Sunday. The address is:
Summer Garden Buildings
Liberator House, Bidwell Road, Rackheath Industrial Estate, Norwich, Norfolk, NR13 6PT
Telephone 01603 721590
RETAIL VALUE AS NEW: This building is not a current model. A breakdown of the retail prices when new are listed below:
Spar Pent Concrete Shed 628
£2,122 : Total including delivery (Retail value as new)
Ex display : £649
Available now for immediate collection
Installation not available
Buyer to dismantle and collect
SPECIFICATIONS
External pebbledash finish with Canterbury Spar chippings
Galvanized bolts
Pent roof sloping from front to back with a shallow pitch
Welded steel roof trusses with black paint finish
Brown plastisol coated galvanized steel roof sheets with no drip anti-condensation coating inside
Brown plastisol coated galvanized steel fascias
Single hinged door 2'6" wide with white powder coated galvanized steel and vertically ribbed design
Door overall size, including frame 3'1" x 6'4" (930mm x 1935mm)
Door clear opening size 2'9" x 6'0" (835mm x 1835mm)
Door head clearance 6'2" (1885mm)
White PVCu double glazed opening window 2' wide x 3' high (610mm x 915mm)
Eaves height 6'6" (1981mm)
External height at the front approximately 7'5" (2250mm)
CONCRETE SHEDS AND WORKSHOPS - THE BENEFITS: Many of our best timber sheds and log cabins are solid, well made and likely to last a long time with very little maintenance. However, nothing can match the solidity and durability of a concrete sectional building. If you choose PVCu windows and gables your concrete shed or workshop will be almost completely maintenance free. Sectional concrete sheds and workshops are especially popular as a more secure home for valuable items such as expensive tools or motorbikes.
SPAR FINISH: The heavy duty concrete panels are approximately 65mm thick and steel reinforced. The panels are finished outside with colourful Canterbury Spar chippings and inside with a smooth vibrated finish inside to ensure a neat appearance inside and out. The panels are full height and up to 24" wide so the number of joins is reduced to a minimum. The smooth internal finish is attractive in itself but it is also easy to paint which provides a stunning internal finish.
ANTI-CONDENSATION ROOF SHEETS: The roof is clad with heavy duty galvanized steel roof sheets. The underside is finished with a no drip anti-condensation layer. An absorbent fibrous mat is applied to the underside of the steel roof sheets which absorbs condensation. The fibrous mat absorbs water which then evaporates when the temperature rises. It is a permanent felt based moisture barrier which is applied to the metal sheet during manufacture. The anti-condensation coating is a light grey colour with an attractive fabric finish.
INTERNAL SIZES AND BASE SIZES: Concrete sheds and workshops require a substantial concrete base which should be slightly larger than the shed. The ideal size is 3" or 75mm bigger than the shed on all sides. To calculate the correct base size for any concrete shed or workshop just add 6" or 150mm to the external width and 6" or 150mm to the external length. The external shed sizes are listed in the SIZES & PRICES chart. The internal width is approximately 5" or 125mm smaller than the external width. The internal length is approximately 9" or 225mm smaller than the external length.
SIZES - LENGTH AND WIDTH: The sizes are listed alongside the price. The first dimension listed is the width and the second dimension is the length. The length refers to the sloping walls. The width refers to the highest and lowest walls. The sizes listed are the external wall sizes. These sizes do not include the roof overhang.
Options
Choice of window and personnel door positions - the window and personnel door positions can be moved/reversed
Features and Accessories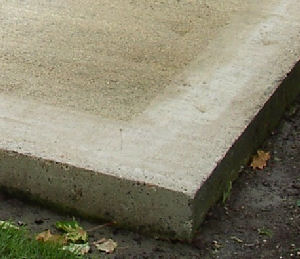 Garage base preparation and other information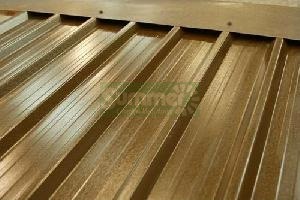 Standard no drip anti-condensation roof sheets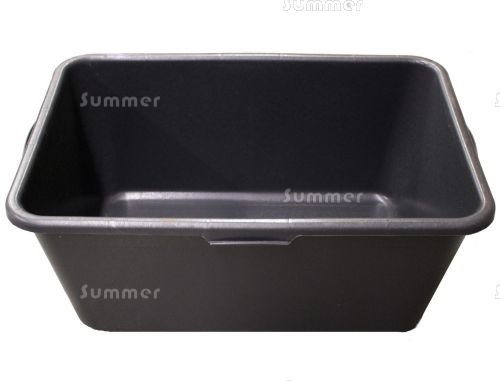 Heavy duty storage tubs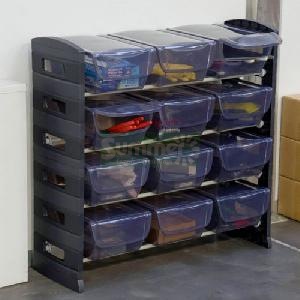 Shelving - plastic push fit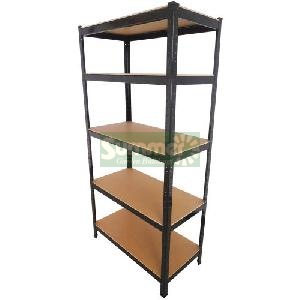 Shelving - steel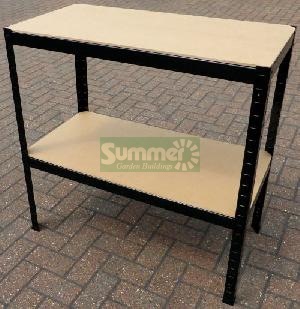 Workbenches - steel